At Cherrytree Dental Practice our team aim to provide excellent dental health care in a friendly and sympathetic environment. That means giving you regular dental advice and helping you understand how to care for your teeth yourself.
A modern well equipped Dental Practice
Cherrytree Dental Practice was established in August 2009 and is a NHS and private practice. Our dentists and dental care professionals are based in our conveniently-located practice in the heart of Broughty Ferry, Dundee.
Our friendly, approachable and experienced team is committed to understanding your needs, meeting your expectations and alleviating any concerns you may have. We are able to advise you individually on the best approach to good dental health and hygiene. We'll also discuss fully with you the options available for any treatment you may require.
We have BDA Good Practice accreditation. The BDA Good Practice Scheme is a quality assurance framework for UK dental practices. As a member of the Scheme, our practice demonstrates a visible commitment to providing quality dental care to nationally recognised best practice standards. You can trust us to look after you and your family's dental health.
Your first visit
We offer a wide range of treatments within our practice.
Appointment reminders

Automated reminders are emailed and sent via text.
Missed appointments
We work hard within our practice to provide those very important emergency appointments you sometimes need. To help us, we ask that you contact us to cancel your appointments if your plans change. This frees up time for us to offer your appointment time to someone who urgently needs to see us. You may be liable for a charge if you fail to attend an appointment.
Complaints Procedure
At our practice, our aim is to deal with all complaints in a serious, courteous and prompt manner, so that the matter is resolved as quickly as possible. Our aim is to react to complaints in the way in which we would want our complaint about a service to be handled.
The person responsible for dealing with any complaints about the service which we provide is Nykky Banks our Practice Manager.
If a patient complains by telephone or at the reception desk, we will listen to their complaint and offer to refer him or her to the practice manager immediately. If the practice manager is not available at the time, then the patient will be told when they will be able to talk to Richard Borland, the dentist and arrangements will be made for this to happen. The member of staff will take brief details of the complaint and pass them on. If we cannot arrange this within a reasonable period or if the patient does not wish to wait to discuss the matter, arrangements will be made for someone else to deal with it.
If the patient complains in writing, the letter will be passed on immediately to the Practice Manager.
If a complaint is about any aspect of clinical care or associated charges, it will normally be referred to the dentist, unless the patient does not want this to happen.
We will acknowledge the patient's complaint in writing and enclose a copy of this code of practice as soon as possible, normally within three working days. We will seek to investigate the complaint within ten working days of receipt to give an explanation of the circumstances which led to the complaint. If the patient does not wish to meet us then we will attempt to talk to them on the telephone. If we are unable to investigate the complaint within ten working days we will notify the patient, giving reasons for the delay and a likely period within which the investigation will be completed.
We will confirm the decision about the complaint in writing immediately after completing our investigation.
Proper and comprehensive records are kept of any complaint received.
If patients are not satisfied with the result of our procedure then a complaint may be made to:
The Dental Complaints Service: Tel. 08456 120 540 (for complaints about private treatment).
The General Dental Council Tel. 0207 167 6000 (the dentists' registration body).
Primary Care Organisation: NHS Tayside  Telephone: 0800 027 5507 for complaints about NHS treatment.
How to join the practice – At present we aren't registering new patients, however, you can call and ask to be put on our waiting list.
To go onto our waiting list please call us on 01382 736632 or email our reception team reception@cherrytreedental.org.uk.
You can also request details using the online form.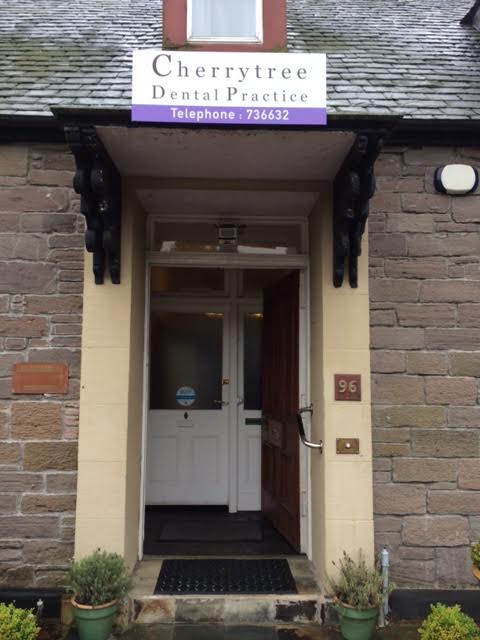 Opening hours
| | |
| --- | --- |
| Monday | 9am-5pm |
| Tuesday | 9am-5pm |
| Wednesday | 9am-5pm |
| Thursday | 9am-5pm |
| Friday | 9am-5pm |
| Saturday | Closed |
| Sunday | Closed |